for everything you thought you could not buy!
Welcome to Marchmont Hardware. We are a local independent hardware/cookshop based in the centre of the popular Marchmont area of Edinburgh. The area is popular amongst students, retired and professional people, so hence we have a wide variety of customers to cater for. We have been here for 20 years (makes us feel a bit older now!) but the shop has been a hardware store for over 50 years. We do hope you find this site useful and would appreciate any comments, good or bad!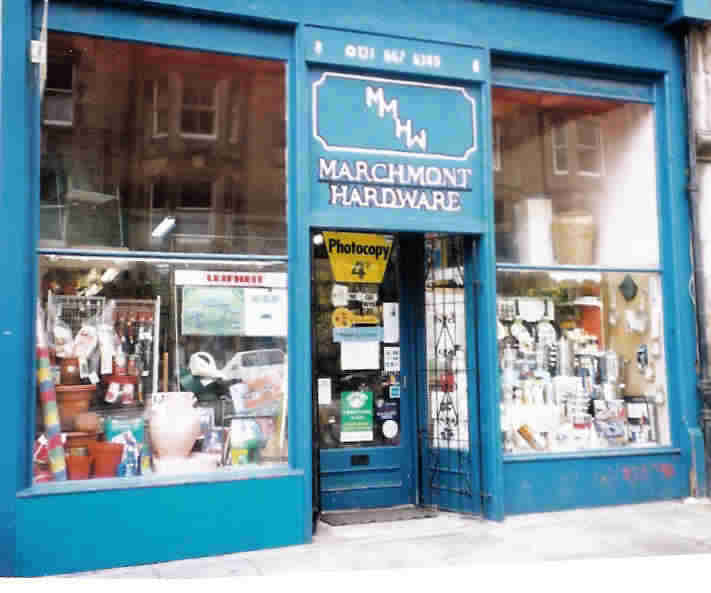 We aim to give the customer one to one service and will offer any advice that we can, something that sadly lacks in the modern large stores around now. We have a wide range of products varying from cookshop, gifts, cards, garden, cleaning, key cutting, ironmongery, electrical, seasonal and everything else you can think of (except the kitchen sink! but we do have sink plugs!) If we do not have it in stock we can get it or know someone who can.

We are members of the British Hardware Federation (BHF Group), Cookshop and Housewares Association (CHA) and the Hardware and Garden Retailers Association (HGRA)
Contact Information
Telephone

0131 667 6389

FAX

0131 667 6389

Postal address

8 Warrender Park Road, Edinburgh EH9 1JQ

Electronic mail

General Information: info@marchmont-hardware.co.uk

Webmaster: info@lpp-designs.co.uk